Monthly Archives:
August 2012
A lot has happened since my last blog post. My training has been pretty interrupted due to wrist surgery that was theoretically meant to leave me pain free, tidying up some cartilage and ligaments with a quick recovery. It didn't quite go to plan and I'm still super sore now but my cardio training has been continuing, plus I can also now to one arm pull ups on my front three and back three. I've also been doing some research on other climbers whilst laid up as shown in the pic below!!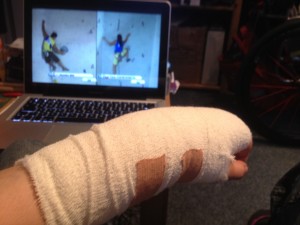 Rehearsals have stepped and I am so proud to be able to take part in what is going to be an amazing show. Be sure to check it out next Wednesday on Channel 4! I have had the opportunity to do some filming with one of my sponsors, The Arch and I will post the video on here.
I am also pleased to be able to announce that I am now sponsored by Bigstone Ltd who are the Uk Agency for Five Ten, Arcteryx and Smartwool and they have very kindly provided me with a some awesome new Five Ten and Arcteryx kit for my training and competing.
currentVote
noRating
noWeight