So it is the end of the comp season and a good time to reflect on the year. Full reports from each of the last three comps can be found at www.archclimbingwall.com so I won't repeat them here.
The first half of the year was taken up with surgery and rehab on my hand and wrist something that is on going but there has been a lot of improvement. The Europeans in Chamonix were my first comp, and with only three weeks back climbing after my surgery and no training, I was happy with second place. This was a great comp, completely integrated with the able bodied competition and with the exception of some routesetting issues was an enjoyable event. Rockmasters in Arco followed, a trip I really enjoyed, the outdoor climbing was amazing, but a comp that was ruined by poor routesetting decisions. Joint first is always a rubbish way to win. The London comp came next, a small scale comp, limited by the lack of attendees and being ill the whole weekend made it the least enjoyable one of the season for me, although I was still pleased to win in front of a home crowd.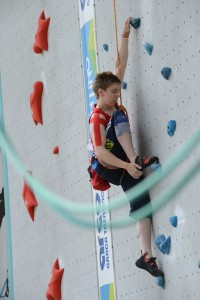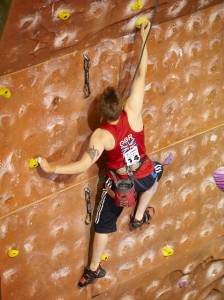 (photo by Nick Pope)
The final international of this season, was 10 days ago in Laval France. This was the first ifsc paraclimbing bouldering comp and was a really well run competition. The finals routesetting was a little disappointing and there were a couple of accessibility issues but on the whole this was a great comp and a good example of how the ifsc and particularly a national federation (in this case the FFME) have learnt from previous comps and proactively improved paraclimbing competitions this year. I was especially pleased to win in Laval with it being a bouldering comp. Going last in finals put me under a lot of pressure, particularly knowing I needed to flash the last boulder and I dealt with this well. This has been one of the great learning points of the year, and clearly working with my coach on how to approach comps and deal with pressure has helped. Thinking back to how stressed and nervous I was in Chamonix compared to Laval just shows how much better I've got at coping with competitions.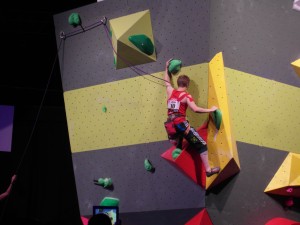 The year has overall been great, 3 gold medals and a silver is a good outcome particularly considering that as an NPD B athlete I have competed in a combined class all year with athletes in the NPD A class who have less severe impairments. I think international routesetters need to think a little more about the limitations and abilities of each category of paraclimbers and some obvious access problems that often get overlooked, such as stairs and toilets, need to be thought about when federations plan future competitions. 2014 is a world championship year and there are plans for a series of several international competitions in the run up to the worlds. With any luck this will bring an increase in the number of competitors providing a better spread across the classes.
In the meantime it's back to winter maintenance training and some outdoor trips before a new training block starts after christmas. The draft calender for next years internationals isn't out yet so it's a bit difficult to plan training at the moment. I'm speaking at the women's climbing symposium in a couple of weeks and the bmc disability symposium two weeks later. With a trip to font in between, it's going to be a busy November. I'd like to take this opportunity to thank my coach Jimmie Gustin for his support during this competition season and my sponsors the Arch Climbing Wall and Five Ten for making it possible for me to attend all the competitions this year.
More updates soon!