Monthly Archives:
April 2014
It's been a while since I blogged here, mostly due to university being full on and that combined with training means I've not had much free time.
Back In February I flew out to Colorado Springs for the 2014 Abs Para Climbing Nationals.  It was a good comp although the setting didn't really suit me as it was quite jumpy in style, not my forte! I was happy to come second though in what was a mixed class so I was climbing against much more physically able individuals.
Since then it's been back to training for the world cups which start in 12 weeks. I won the first round of the British Para Climbing Series in March, which was a nice measure of where I'm at with my training.  The second round is in a week so I'm training full time now. It's nice that it's the uni holidays finally so I can juggle fewer commitments for a couple of weeks.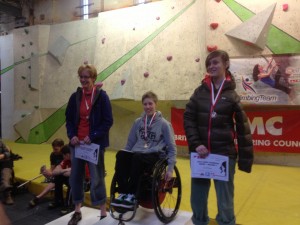 I'm close to getting back into skydiving and have been working on my body flight at Airkix so I can be 100% sure that I am comfortable in the air before I go jump  out of the sky!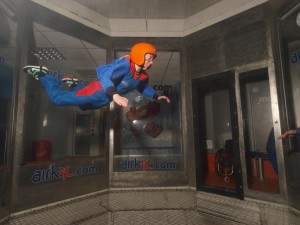 I've also recently been filming with Transworld Sport so I'll blog again when that is going to be shown on tv and I'm also in the process of filming a new video of a return to my climbing roots on Dartmoor.
I was disappointed to be dropped by my shoe sponsor Five Ten in January, I had assumed that as it's a world championship year I would never be dropped but hey ho, you live and learn, it was just a bit of a blow at the time. As it turns out though it wasn't all bad as it was a catalyst to try and find a new sponsor and I have a new amazing deal lined up so all is well (look out for the announcement soon!).
I'm also really pleased to say that I am now sponsored by Blurr Clothing who have even managed to convert me to wearing women's climbing trousers not guys ones! Their kit is comfy and functional as well as looking pretty damn cool.